Bollywood's newlywed it couple Katrina Kaif and Vicky Kaushal — who recently tied the knot in Jaipur, India — shared some pictures from their haldi ceremony reportedly held on December 8, giving their fans a tiny peek into a very private wedding.
The couple kept mum about their marriage for weeks, even after the Indian media started speculating about them getting married in December. Kaif and Kaushal finally confirmed their relationship and marriage by posting identical announcements on Instagram along with pictures of their big day, allowing fans to see the couple as newly weds.
The couple again shared some pictures from their haldi ceremony, celebrated with close family and friends at the Six Senses Fort hotel in Jaipur. They were shared on Instagram along with the caption "Shukr. Sabr. Khushi [Gratitude. Patience. Joy]."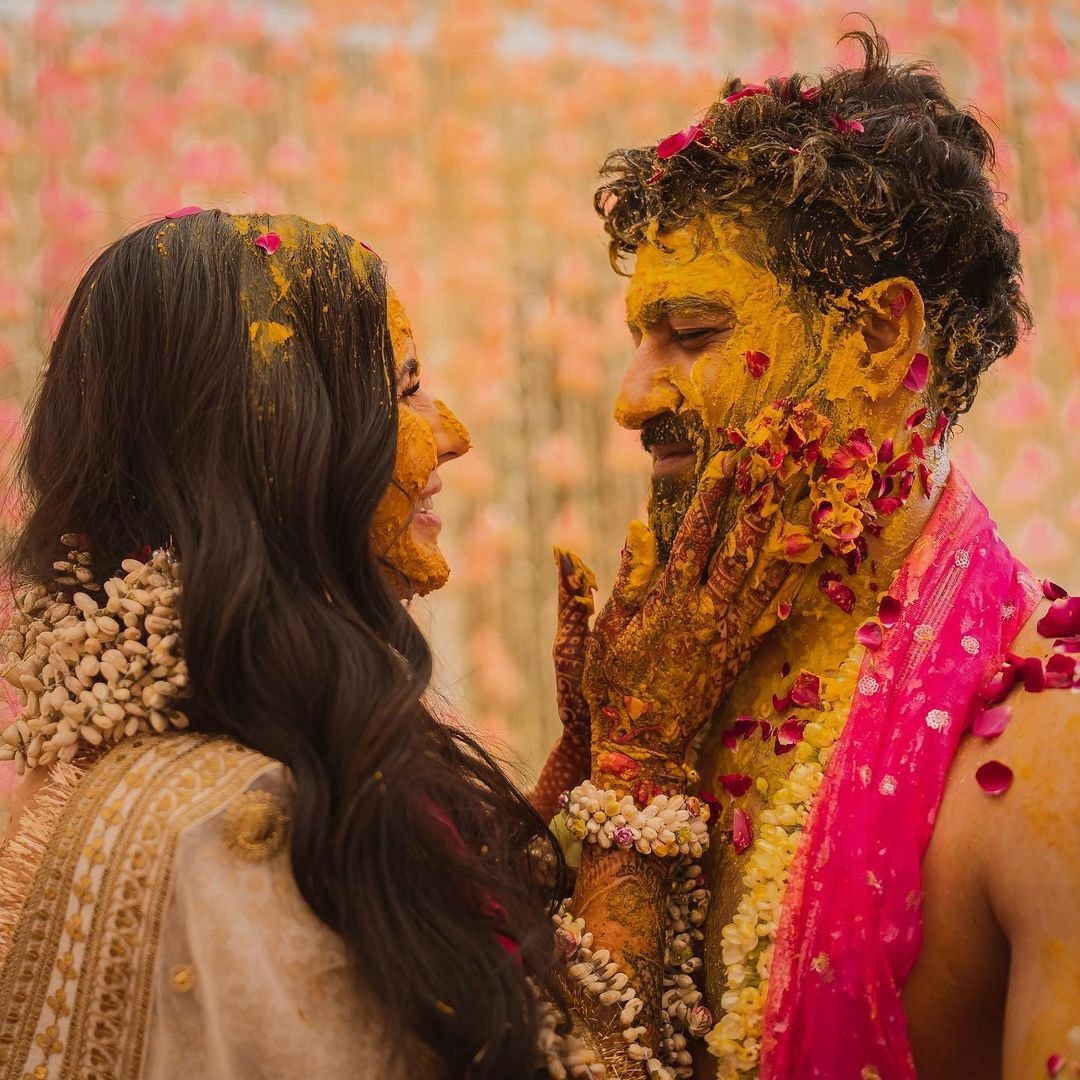 Kaif was a quintessential Sabyasachi bride. She wore the Indian designer on her wedding day as well as at her haldi ceremony, according to her hair stylist Amit Thakur on Instagram. The bride chose to wear floral accessories as jewellery on the special occasion, which included bracelets and a garland.
The groom clearly had a lot of fun on his special day. There's nothing like getting smothered with haldi to put a smile on your face.
Look at that groom swagger while being doused with water!
Kaif's brother and sister recently posted messages on Instagram welcoming Kaushal to the family. Brother Sebastien Laurent Michel was "happy to have gained another brother", wishing the couple "all the good in the world".
Kaif and Kaushal reportedly sent sent gifts and sweets to the indian paparazzi who covered their wedding and thanked them for their efforts, according to Pinkvilla. They also sent wedding hampers to their celebrity friends to share news of their wedding with them.
Indian designer Manish Malhotra received the hamper as well and thanked the couple for it while wishing them "lots of love and happiness". According to Pinkvilla, Kaif and Kaushal might soon host a reception for their B-Town friends and colleagues in Mumbai as well.