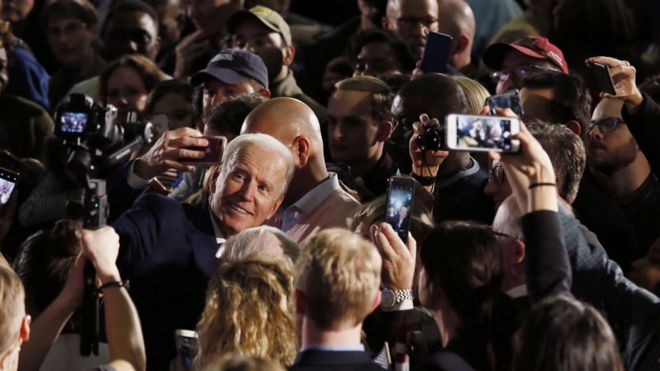 On Saturday, South Carolina became the fourth US state to join the race to find a Democrat to take on Republican Donald Trump in November's general election. Who were the big winners and losers?
Enter the most diverse electorate of the states that have gone so far – one that better reflects the national make-up of the Democratic Party.
The South Carolina contest is particularly important because it is essentially the gateway to Super Tuesday in just two days, when 14 states hold their own nominating contests.
So who gets a boost and who is busted?
Here's a look at the man who got a boost and the candidates who were busted in the Palmetto State.
South Carolina had been billed as Joe Biden's last stand – where he poured time and resources into securing a positive result. Just a few weeks ago, as his poll numbers sank across the nation, it also appeared it would be his campaign's final resting place.
Instead, after a week of furious effort, South Carolina gave Biden his first primary victory of the year – his first win in any of his three presidential bids, in fact.

Biden may have one man in particular to thank for his success: Congressman James Clyburn, a powerful voice in the state's black community, who endorsed the vice-president on Wednesday. Exit polls indicate Clyburn's backing was an important factor for about half of the primary voters – and probably one of the reasons Biden posted such a dominating performance among the state's black voters.
If he can match that kind of showing in states to come, he's going to give Bernie Sanders a tough fight.
Biden is going to have to hope his success in South Carolina translates into a surge on Super Tuesday without much assistance from his campaign, however. He only recently began advertising in the upcoming states, and a Saturday afternoon trip to North Carolina was the first time he left South Carolina in almost a week.
He's still running on a wing and a prayer, but at least for one night and in one state, those prayers were answered.