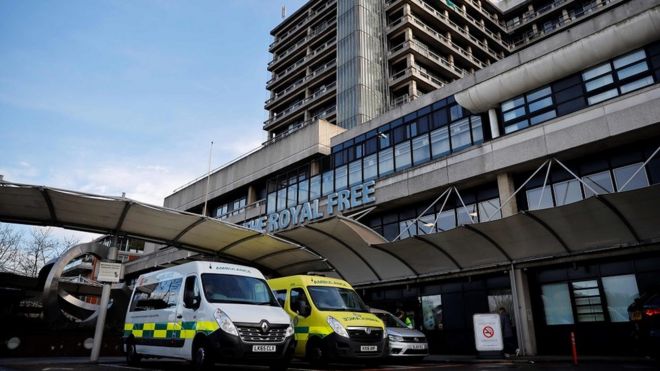 Two more patients have tested positive for coronavirus in England, bringing the total number of UK cases to 15.
They have been transferred to specialist NHS infection centres in Liverpool and London, the Department of Health said.
The virus was passed on while they were in Italy and Tenerife, said England's chief medical officer Prof Chris Whitty.
Ministers have said they expect more cases to emerge.
The new patients are being treated at specialist centres at the Royal Free Hospital, London, and the Royal Liverpool Hospital.
A medical centre less than a mile from the school has also closed due to a "confirmed case" of the virus.
It is not clear which part of the UK the other person is from. They contracted the virus in northern Italy.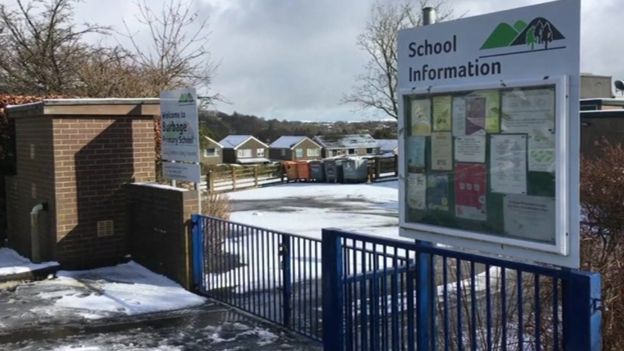 Italy now has more than 400 cases of coronavirus with authorities there reporting that 12 people have died.
And in Tenerife, 168 Britons have been told to isolate themselves at the H10 Costa Adeje Palace hotel.
Prof Yvonne Doyle, medical director at Public Health England, said PHE had sent a health protection specialist to Tenerife to work with the Spanish authorities to better understand the public health measures that have been put in place in the hotel.
"This includes understanding spread of the virus within the hotel and how the Spanish authorities are monitoring the situation," she said.
Meanwhile, Dulwich Prep in south London has become the latest school to close.
In a statement on its website, the school said unrelated pupils from different sections of the school had become unwell after returning from holiday in one of the "category two" areas.
The families have self-isolated and are awaiting the results of tests.
The school said the immediate closure was a "precautionary measure", adding that it hoped to reopen on Monday.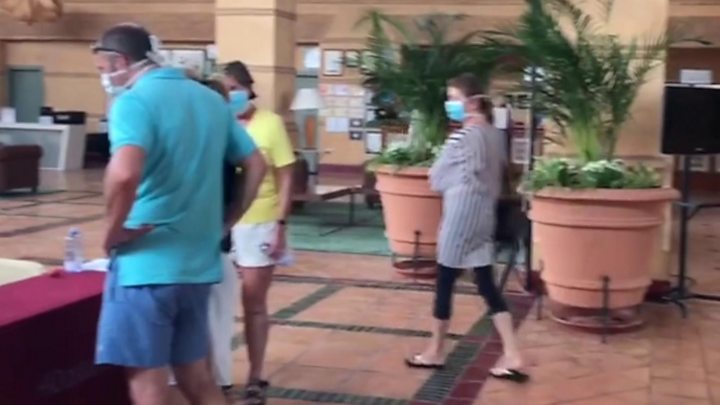 Globally, more than 80,000 people in more than 40 countries have now been infected.
Covid-19, the respiratory disease caused by the virus, has killed more than 2,700 people. Most of the deaths have been in China, where the virus originated in December.
Ministers and public health officials had always been clear there would be more cases in the UK given the way coronavirus has spread around the globe.
Teams from Public Health England will be busy tracing the contacts these two individuals have had on their journeys from Italy and Tenerife and since they returned.
This detective work will be essential in containing any further spread of the virus.
At the moment we haven't had any human-to-human transmission in the UK.
The British government is hopeful it can contain outbreaks.
But even if it doesn't, it wants to delay them until the spring or summer when the weather will be warmer and there will be less intense pressure on the NHS.
Meanwhile, the Cabinet Office has been in communication with local authorities about their "mass death preparedness" – what their plans are to deal with pressures on public services if deaths from coronavirus are severe, BBC Newsnight understands.
This includes, among other things, where local authorities might locate new, and perhaps mass, burial sites, should they be needed.
Prime Minister Boris Johnson said: "The NHS is a fantastic service and we've made every possible preparation for any eventuality, and if you are concerned about travelling abroad to an area that's infected the key thing is to look at the Foreign Office website."
As of 27 February, a total of 7,690 people in the UK have been tested for the virus.
Of the 15 to have tested positive, eight have so far been discharged from hospital.
The risk level in the UK was raised to moderate after the World Health Organization declared it a public health emergency of international concern.
The main signs of infection are fever and a cough, as well as shortness of breath and breathing difficulties.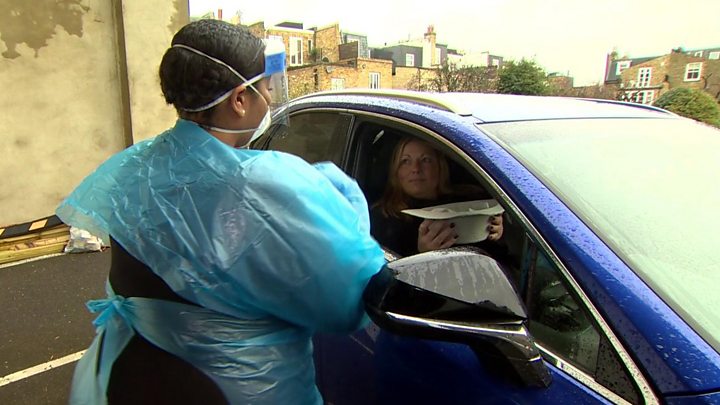 As health services develop strategies to tackle coronavirus, staff at Southampton University NHS Trust were asked to shave their beards – unless they had religious or cultural reasons – so that face masks fitted properly.
What should I do to minimise the risk?
The new cases in England come as the government is set to launch a public information campaign, which will focus on hygiene and how to prevent the spread of infection.
The current advice is to cover your mouth and nose with a tissue or sleeve when you cough or sneeze, throw away tissues immediately after use and wash your hands frequently.
It is also advised to avoid touching your eyes, nose or mouth with unclean hands and avoid close contact with people who are unwell.