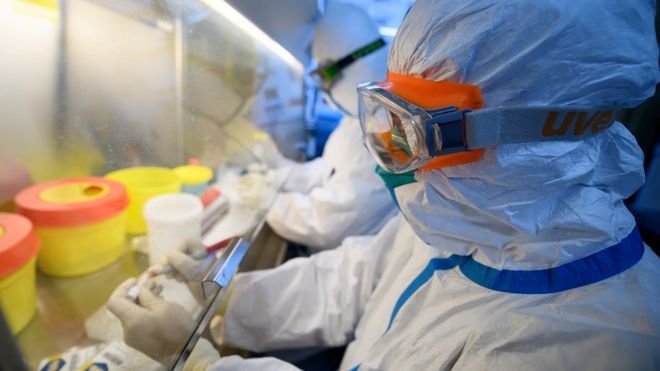 Tests for coronavirus are being increased to include people displaying flu-like symptoms at 11 hospitals and 100 GP surgeries across the UK.
The tests will provide an "early warning" if the virus is spreading, Public Health England medical director Prof Paul Cosford said.
It comes as more schools closed or sent staff and pupils home following trips to Italy, which has over 300 cases.
Prof Cosford told BBC Radio 4's Today programme: "We are heightening our vigilance because of the apparent spread of the virus in countries outside mainland China."
Up to now, people were tested only if they displayed symptoms having recently returned from one of the countries where there has been an outbreak, including China, South Korea and northern Italy.
However, Prof Cosford said Public Health England was now working with hospitals and GP surgeries to conduct tests on some patients with coughs, fevers or shortness of breath – regardless of whether they have travelled to a place where the virus is spreading.
"If we do get to the position of a more widespread infection across the country, then it will give us early warning that's happening," said Prof Cosford.
This is a pre-emptive move by Public Health England in case the virus starts spreading on a bigger scale.
Using existing software and checklists, it will allow doctors to identify patients coming in to selected sites with the most serious flu-like symptoms – mainly the elderly – and then test them.
The aim is to discover whether coronavirus is spreading in communities.
In effect, it's a fact-finding mission to gather data to better understand the spread of the virus – if that is what is occurring.
The plan is expected to mean hundreds more people are tested for the virus each week. The Department of Health said it has carried out 6,795 tests in the UK since the outbreak began to spread beyond China in January.
Of these, 13 were confirmed positive – including four people who returned from the Diamond Princess cruise ship in Japan.
Eight of the coronavirus patients have been discharged from hospital.
'Difficult decisions'
Prof Cosford said the UK was still in the "containment" phase of dealing with the coronavirus, and added that efforts to identify and isolate people with the virus returning to the UK were "working really quite well".
He said Public Health England was not giving "blanket advice" that schools should close if staff or pupils have travelled to areas with outbreaks of the virus.
But, he said, schools made "difficult decisions" according to their specific circumstances.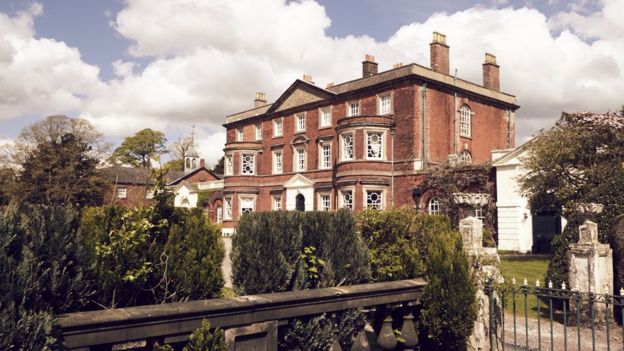 Four schools have shut completely for a week to carry out a "deep clean" after students and teachers returned from skiing trips in northern Italy over half term.
Hugh Hegarty, CEO of the trust which runs Trinity Catholic College in Middlesbrough, said the school closed because of the "potential risk" after students and staff returned from a ski trip near Verona.
"The challenge for us is that guidance was issued on Tuesday morning and the children had returned to the school on Monday," he told the Today programme.
He said they advised children who had been on the trip to self-isolate at home, while the school as a whole would close for 72 hours, during which there would be a deep clean and school leaders would monitor the situation.
BBC's Nick Robinson tested: 'The sheer scale of the effort occurs to you'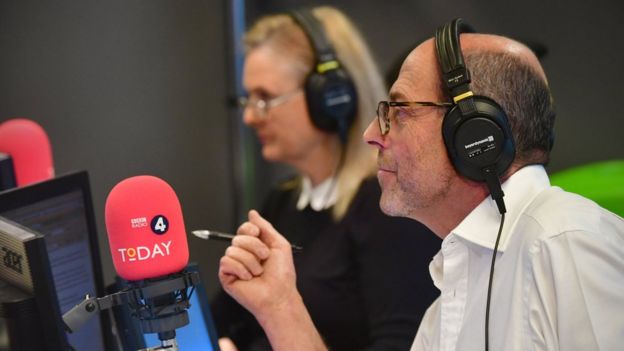 Today programme presenter Nick Robinson has recounted his experience of being tested for the coronavirus, after returning from holiday in Vietnam and Cambodia.
Mr Robinson said he was feeling "fine" as he awaited the results in self-isolation at home, although he was a "little bit croaky" because he had a cough before he left the UK.
He said he was instructed to drive himself to hospital if possible, to avoid the risk of infecting others. A nurse came out into the car park wearing a plastic face visor, rubber gloves and a disposable apron.
The nurse carried out tests for temperature, blood pressure and oxygen saturation through his car window, before taking a swab for the coronavirus test.
When they wanted a second opinion from a doctor, he was walked through a staff car park through a back entrance, again to reduce the risk of infecting other patients.
"It's the sheer scale of the effort that occurs to you. I was there for more than two-and-a-half hours," he said. "This is hugely time consuming."