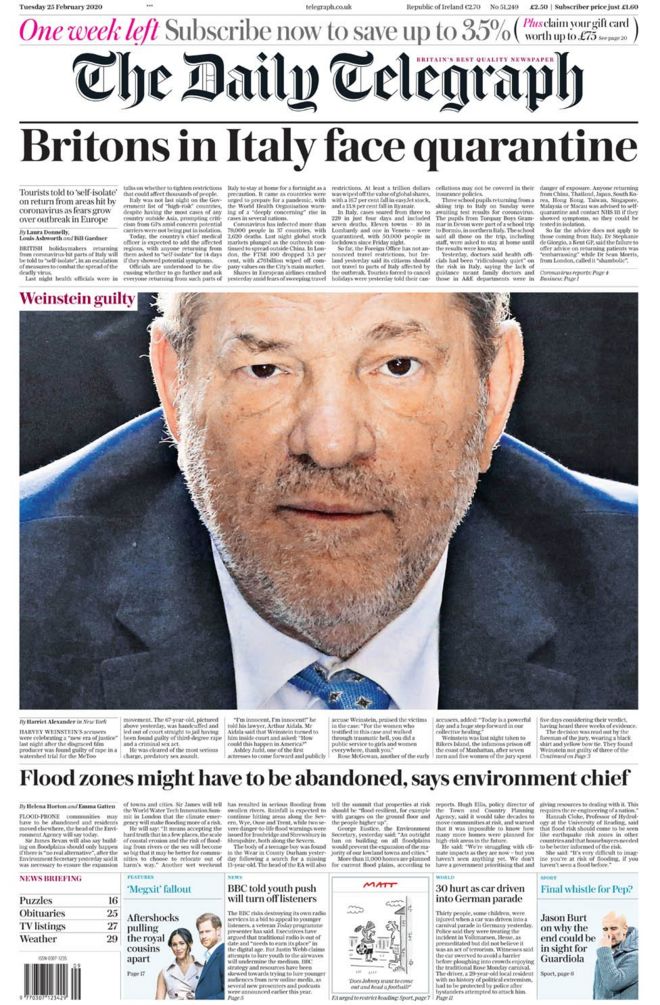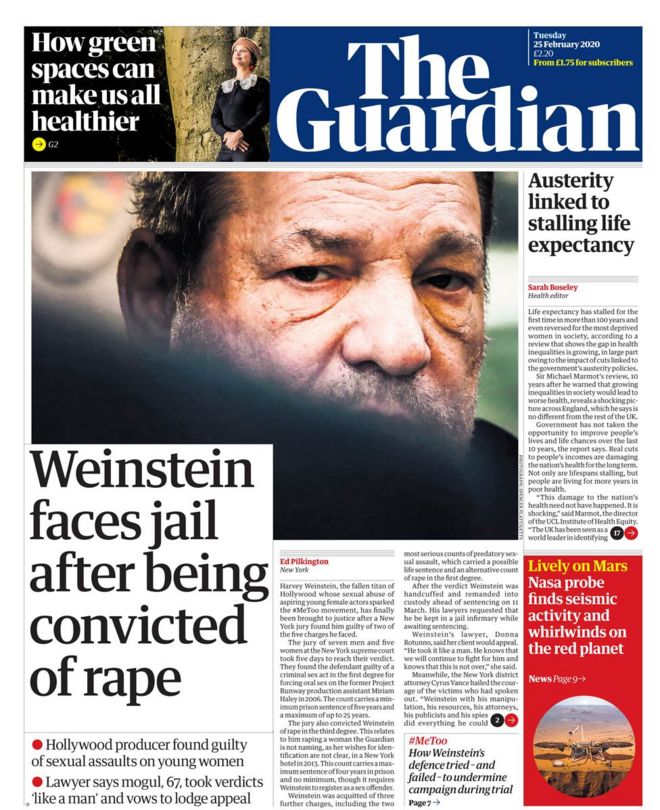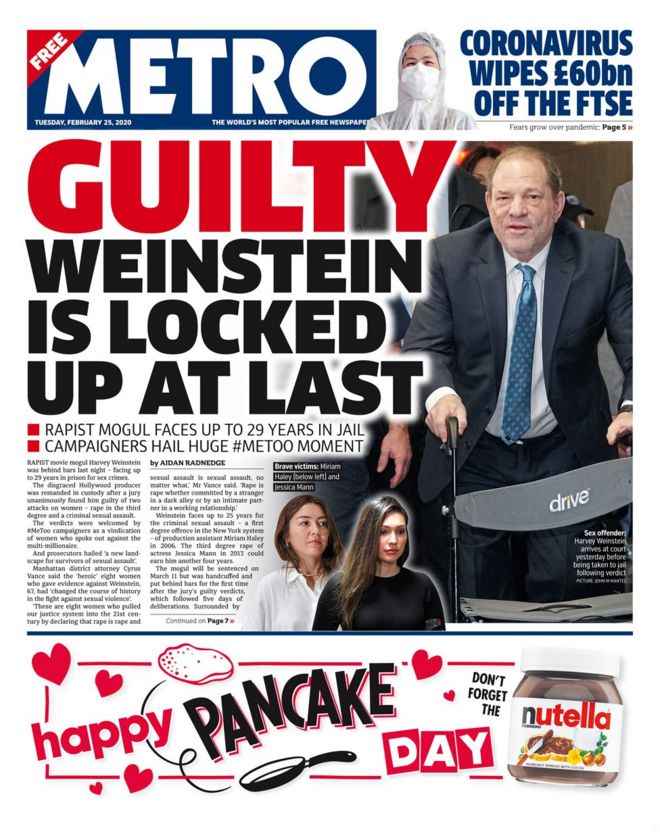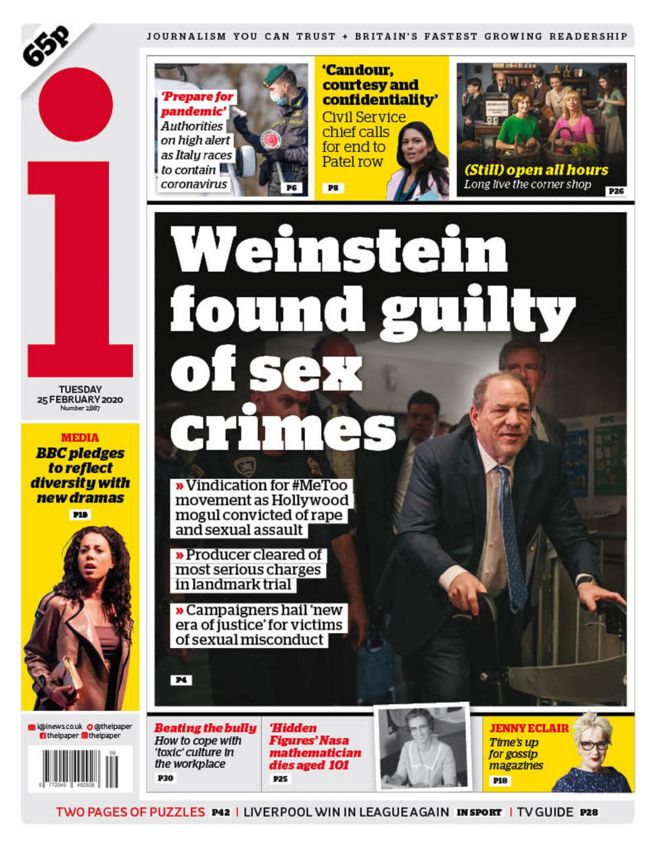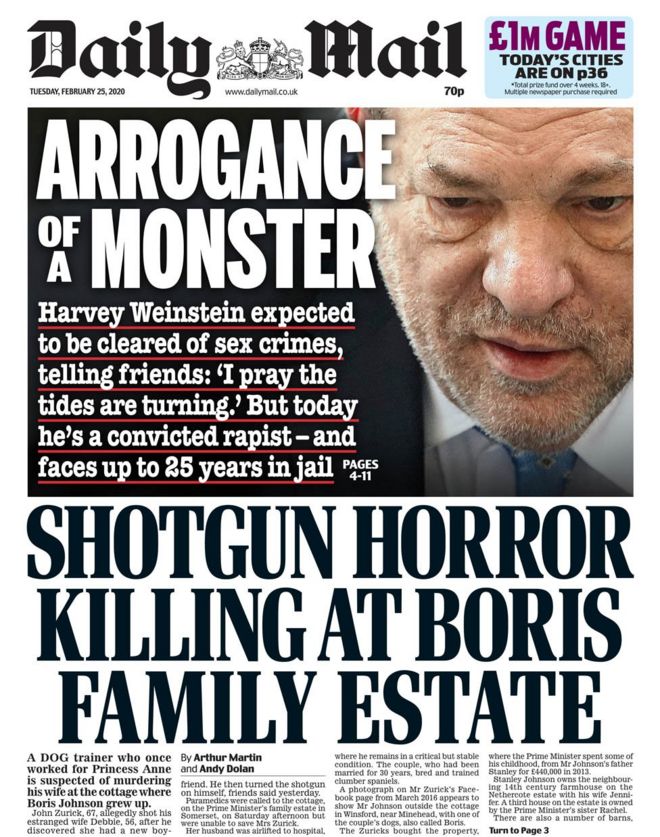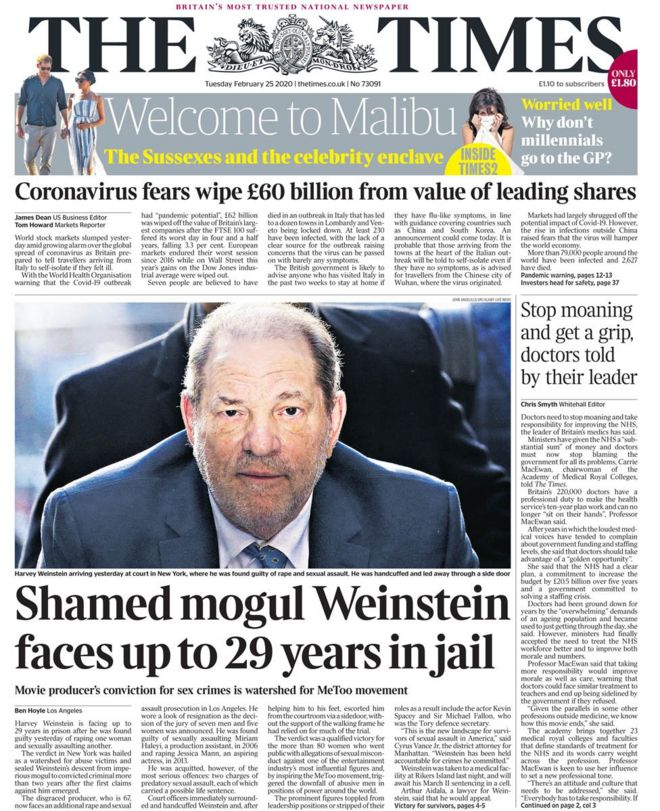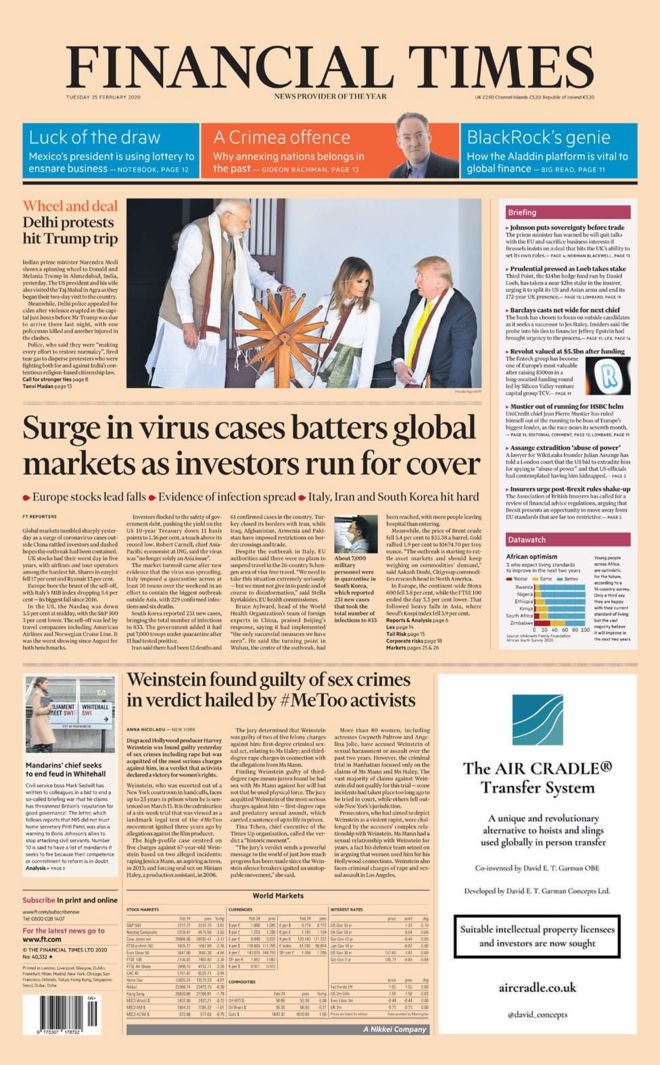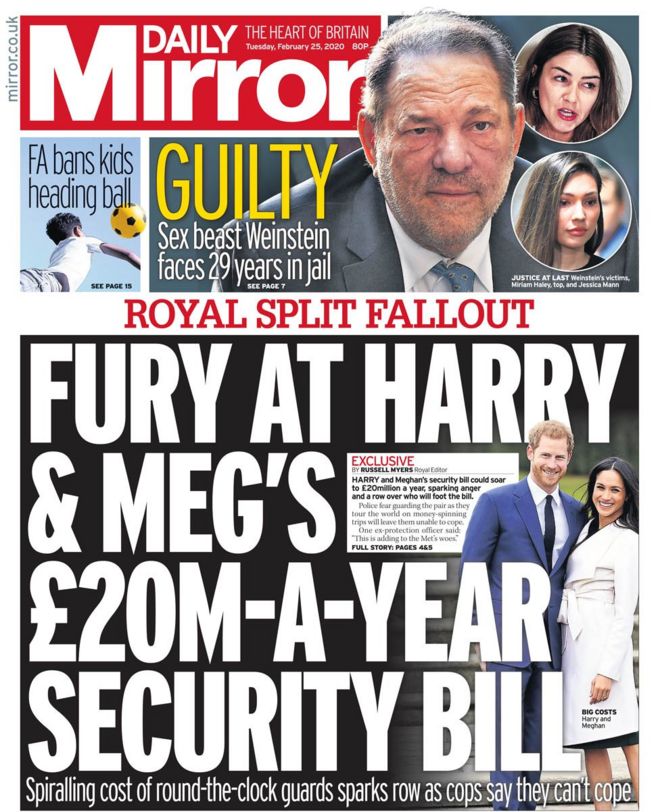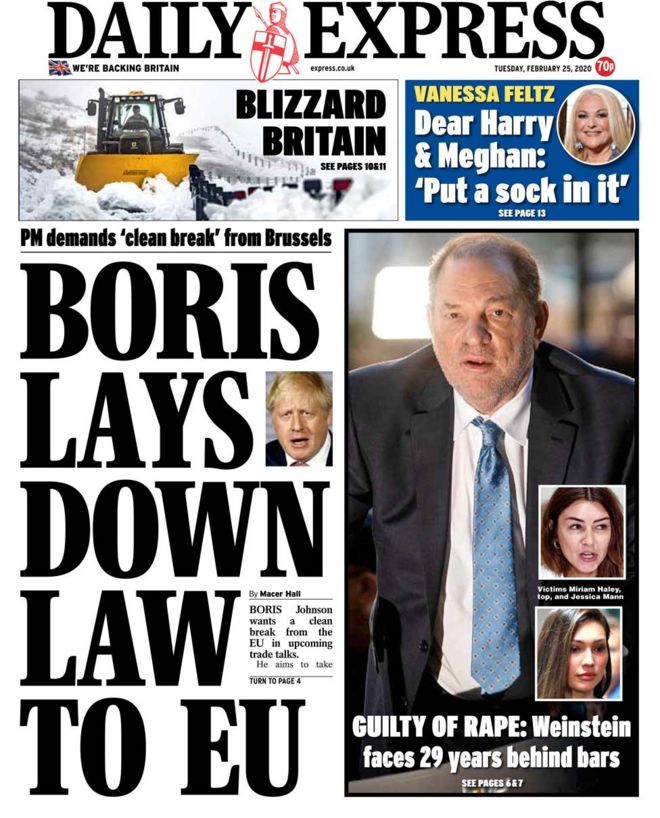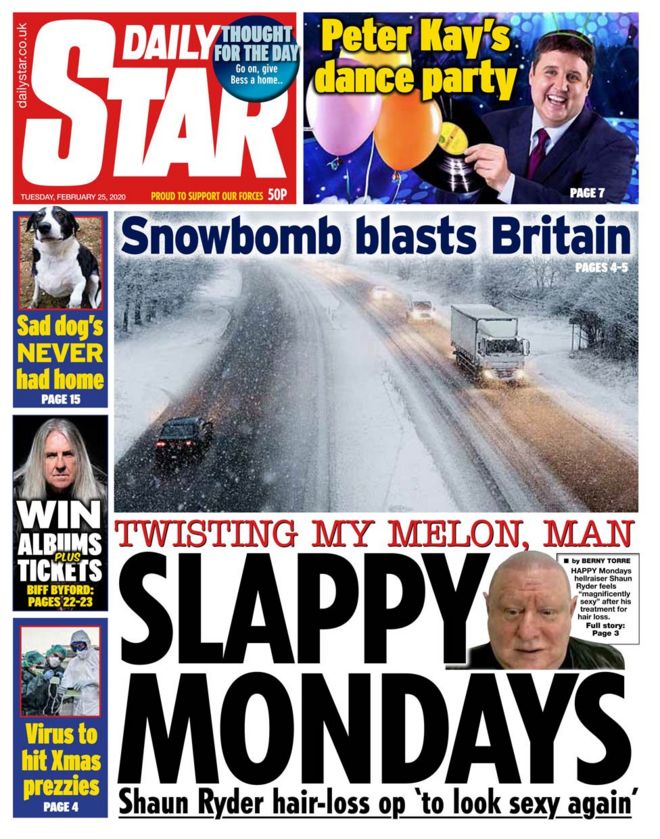 Most of Tuesday's newspapers lead on Harvey Weinstein's conviction for rape and sexual assault at his landmark trial in New York.
For the Guardian, the "fallen titan of Hollywood" – whose sexual abuse of aspiring young female actors sparked the #MeToo movement – has finally been brought to justice. The i also sees the verdict as vindication for #MeToo campaigners, who welcomed a "new era of justice".
Metro speaks of the disgraced Hollywood producer being "locked up at last". Under a headline: "Arrogance of a Monster", the Daily Mail says Weinstein expected to be cleared – but is now facing up to 25 years in jail.
Weinstein still faces charges in Los Angeles of assaulting two women in 2013.
The Sun reckons that he is likely to die in jail after his trial in New York. It says he faces up to 29 years behind bars, despite continuing to insist he was innocent.
However, the Daily Mirror cautions that the disgraced Hollywood producer could serve as few as five years in prison.
The Financial Times observes that this was a difficult case for prosecutors: the vast majority of incidents that led to allegations against him had either taken place too long ago to be tried in court, while others fell outside New York's jurisdiction; and some of Weinstein's accusers had had a complex relationship with him.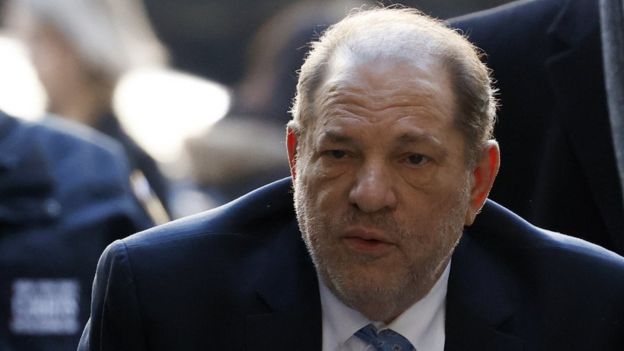 Elsewhere, the Daily Telegraph reports that British holidaymakers returning from parts of Italy hit by the coronavirus will be told to "self-isolate" for 14 days if they're showing potential symptoms of the illness.
But the paper adds that health officials have also discussed whether to escalate these measures further by asking everyone who has visited the affected regions to stay at home for a fortnight; which it says could affect thousands of people.
The main story in the Sun is that the film star, Tom Cruise, is fleeing to Britain from the set of the new Mission: Impossible film in Venice – now deemed a high-risk area, it says.
According to the Guardian, contingency plans being drawn up by the UK government include closing schools in affected areas in the event of a surge in coronavirus cases.
Sources are quoted as saying that more drastic measures such as cutting off local populations – as has happened in some parts of northern Italy – would be considered only as a last resort.
'Clean break' Brexit
The Daily Express applauds Boris Johnson for demanding a "clean break" from the European Union at the end of this year.
It speaks of the prime minister laying down the law in upcoming trade talks – and refusing to accept any deal that compromises the UK's political or economic independence.
The FT says business groups are continuing to push for a deal which keeps Britain as closely aligned with the EU as possible, to minimise barriers to trade.
But the Sun declares that Brussels still doesn't get it: Downing Street has made it clear that its one "red line" is Britain having full control of its laws – and if that means no trade deal, "so be it".
Meanwhile, the Times says Britain's doctors are being told to "stop moaning and get a grip" by their leader.
In an interview with the paper, the chairwoman of the Academy of Medical Royal Colleges, Professor Carrie MacEwan, says ministers have now given the NHS a "substantial sum" of money and doctors must stop blaming the government for all its problems; they have a professional duty to make the health service's 10-year plan work and can no longer "sit on their hands", she says.
Professor MacEwan suggests that taking more responsibility would improve doctors' morale as well as care, and warns that failing to do so could result in them being sidelined by the government.