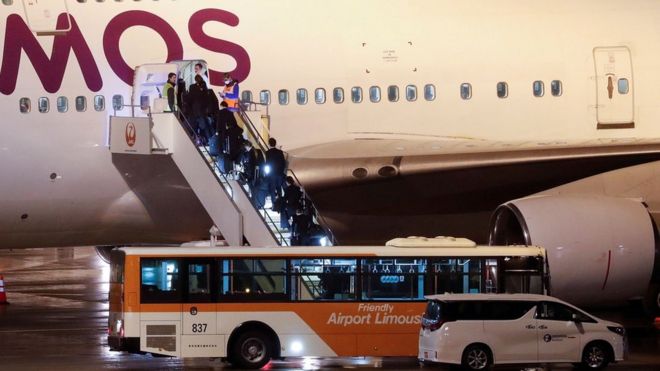 A plane carrying Britons who had been trapped on a coronavirus-hit cruise ship in Japan is on its way to the UK, the Foreign Office has said.
The 78 Britons were on the Diamond Princess when it was quarantined in Yokohama 16 days ago.
The Foreign Office said 32 British and European passengers were on board an evacuation flight, along with medical staff and British government officials.
The plane is due to land in the UK on Saturday morning.
It took off from Tokyo's Haneda Airport late on Friday evening (GMT).
The flight had previously been delayed after the British embassy said it was "logistically complicated".
The passengers are expected to land at Boscombe Down, a Ministry of Defence base in Wiltshire, before spending 14 days in quarantine at Arrowe Park Hospital in Wirral – where two groups of people travelling from China have previously stayed.
Meanwhile, it has emerged the NHS is working on plans to test people for coronavirus in their own homes if the outbreak begins to spread in the UK.
A pilot scheme has already been launched in London, where tests are being carried out by NHS staff, such as nurses and paramedics.
The health service is planning to expand this to other areas outside of the capital in the coming weeks.
Professor Keith Willett, the NHS strategic incident director for coronavirus, said the aim was to avoid the risk of people spreading the infection by going to their GP or A&E.