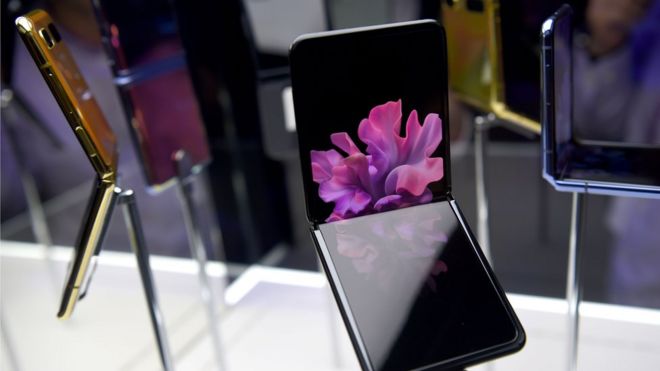 Foldable phones are once again facing questions about their durability.
The Galaxy Z Flip and the Motorola Razr are now both available to buy in the US – but early reports suggest the screens are easily damaged.
One outlet published photos of two layers of the Razr's display separating, affecting the touch screen.
The Galaxy Z flip, meanwhile, boasts a "flexible glass" display – but tests appear to show it scratching as easily as plastic.
It's not yet clear how widespread the issues might be.
In a statement, Samsung said the display had a protective layer, and had undergone extensive testing.
"While the display does bend, it should be handled with care," it said.
It follows the troubled release of Samsung's first foldable phone one year ago, leading some analysts to question whether foldable screen technology is ready for mainstream release.
The Samsung phone costs nearly £1,300 in the UK ($1,380 US), sim-free; while the Motorola is only available locked to a two-year, £94+ per month contract.
Samsung's 'flexible glass' under pressure
The Z Flip's "ultra thin glass" is one of Samsung's primary marketing messages for the new phone.
But a durability test conducted by popular YouTuber Zack Nelson suggested it was no more durable than a soft plastic screen – and could even be dented by a fingernail.
Nelson, who has more than 5m subscribers to his YouTube channel, where he regularly tests new tech, said Samsung's screen scratched "exactly how a plastic screen would react".
"I don't know what material this is, but Samsung definitely shouldn't be calling it glass," he said.
Ben Wood, analyst with CCS Insight, said the new technology of foldable displays was on "a voyage of discovery as volumes ramp up."
He highlighted the success of Samsung's first foldable, the Galaxy Fold, despite a rocky launch – and said the newest generation has learned lessons from its predecessor.
"Samsung appears to have made tremendous progress with the Galaxy Z Flip in terms of hinge design, screen protection and the overall engineering of the device," he said.